As you research your options for cosmetic surgery, there are two phrases you're going to see often: cosmetic surgery and plastic surgery. What's the real difference between them and, more importantly, why does the distinction matter to you?
Keep reading to learn more about plastic versus cosmetic surgery, plus tips for choosing the right cosmetic surgeon:
What is Plastic Surgery?
Plastic surgery is dedicated to restoring parts of a person's body that have been damaged by birth defects, traumas, diseases, or other afflictions. Plastic surgeons must finish a multi-year fellowship or residency after completing their medical degrees. They must then pass an examination, which is administered by the Royal College of Physicians and Surgeons of Canada (RCPSC) to be certified by the necessary boards (like the Canadian Society of Plastic Surgeons (CSPS)).
Plastic surgeries typically address problems including:
The effects of traumatic burns.
Congenital defects like a cleft palate.
Damages caused to lower extremities (primarily the legs) and hands.
Long-lasting scars.
Plastic surgeons can choose to undergo further training in performing cosmetic surgeries (and many do), but their expertise is primarily based in reconstruction.
What is Cosmetic Surgery?
Cosmetic surgery focuses on enhancing a patient's appearance by improving symmetry, proportions, and other aesthetically-pleasing features.
Popular cosmetic surgery procedures include:
Plastic surgeons looking to become cosmetic surgeons typically undergo specific training processes in order to be accredited by bodies like the Canadian Society of Aesthetic (Cosmetic) Plastic Surgeons (CSAPS), American Society of Aesthetic (Cosmetic) Plastic Surgeons (ASAPS), and American Academy of Cosmetic Surgery (AACS).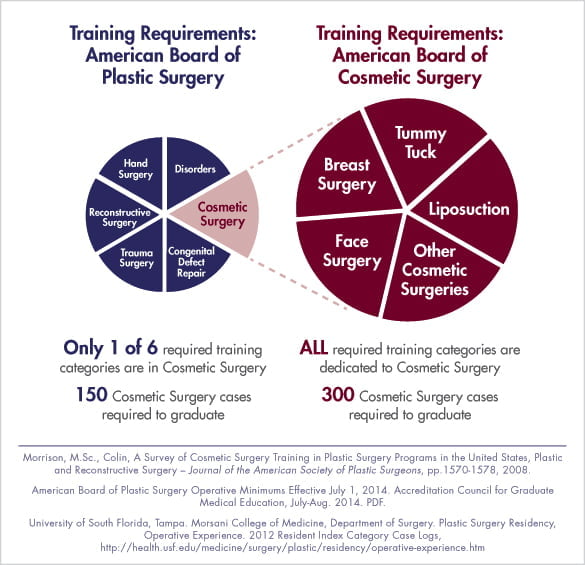 Graphic Provided By: American Board of Cosmetic Surgery
Selecting the Right Surgeon to Perform Your Cosmetic Surgery
After deciding that cosmetic surgery is right for you, the next step is identifying cosmetic surgeons to perform the procedure (or procedures).
Take these three factors into account as you're considering cosmetic surgeons and clinics:
Credentials
Although any physician can refer to themselves a "cosmetic surgeon," you want to find a surgeon trained as a plastic surgeon to perform your cosmetic procedure. Make sure they are accredited and in good standing with the right regulatory bodies (RCPSC, CSPS, CSAPS , and College of Physicians and Surgeons of Ontario (CPSO)) and have hospital admitting privileges (meaning they'll be able to use hospital facilities if necessary).
Areas of Expertise
Some cosmetic surgeons specialize in body shaping operations, while others centralize more specifically around facial procedures. It's important to focus your attention on cosmetic surgeons and clinics concentrating on the area (or areas) of interest to you.
In addition to asking the cosmetic surgeon and staff at the clinic, you can assess past outcomes by viewing before-and-after images. Look for people whose pre-procedure body types are similar to yours to get a sense of the types of results you can look forward.
The Clinic
The clinic you choose needs to feel welcoming to you (high comfort levels, friendly and professional staff, etc.) and be Out-of-Hospital Premises Inspection (OHPI)-certified. The OHPI program, which is overseen by the CPSO, confirms that the clinic will operate to hospital-grade safety and medical standards.
What's one thing that shouldn't be among your top considerations? Price. If a cosmetic surgeon offers you a deal that seems too good to be true, it probably is. Cosmetic surgery can be a life-changing process, which is why it's crucial you choose a cosmetic surgeon who can deliver results you'll be satisfied with for years to come. Keep in mind that reputable clinics will have similar price ranges (within about 10% of each other).
When you've narrowed it down to a few top choices, it's time to book your consultation.
Remember to be open during your discussion, talking honestly about questions, goals, and any other concerns you have. Your cosmetic surgeon will be able to take all that relevant information into account when making their recommendations and ensure the way you approach your cosmetic surgery is tailored to fit you perfectly.
---
Dr. Robert Sleightholm, Brampton Cosmetic Surgery and Medical Spa's Director of Surgery, one of Ontario's leading plastic and cosmetic surgeons. He is a board-certified Fellow of the Royal College of Surgeons of Canada (FRCSC) with over two decades of surgical experience. Book a consultation now.
Like this post? Check out: