Financing For Your Cosmetic Surgery
If you are seriously considering a cosmetic surgery procedure but are concerned about the cost, financing your cosmetic surgery may be an option.
Rather than making one payment at the time your procedure is performed, you can spread payment over a number of months through financing. There are a number of companies that specialize in providing financing for cosmetic surgery.
The Brampton Cosmetic Surgery and Medical Spa can assist you in securing financing. We have relationships with three reputable companies that offer financing specifically for cosmetic surgery.
To initiate the process, simply complete an application form (links to the application forms are below) for one or more of the companies that offer financing.
After you have submitted the form(s), we will notify you when you have been pre-approved. We will then schedule a date for your procedure.
The approval process typically takes two to three days.
The cosmetic surgery financing companies that we work with are:
Medicard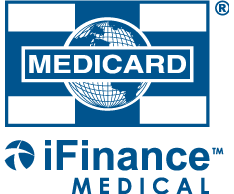 has been financing medical procedures in Canada since 1996. Medicard offers low monthly payment options and does not charge up-front fees or pre-payment penalties. Their latest promotion lets you finance surgeries with no interest fees for three months.
Credit Medical
has been providing financing for elective medical care since 2001. Credit Medical offers easy credit approval with no down payments, at competitive interest rates, with flexible repayment terms.
Apply for Credit Medical Funding
If you require assistance in securing financing for your cosmetic surgery procedure, please do not hesitate to contact us at 905-451-5855 or at info@bramptoncosmetic.com.